How to Start handmade jewelry business in few Step | How to Start Handmade Jewellery Business at Home | How to start Handmade Artificial Jewelery Business
How to Start a Handmade Jewellery Business: In this era of fashion, the market is full of different types of stylish jewellery. At this time jewelery of different designs is sold. If you forget gold and silver for some time, then you will see that a special type of jewelry is sold in the market, which is completely handmade. Today there is a lot of demand for this type of jewelry in the market. Therefore, you too can start this business and do marketing of the designs made by you.
If you are also a woman and Want to start a side business or want to earn money by starting a business from home, then you can read this article completely. With this you will get many ideas from which you can start a business.
How to Start a Handmade Jewellery Business
Making jewelry is an artistic work in itself and it is not that easy because to make jewelry you have to take care of small things and in the era of new fashion this work becomes even more difficult when every day there are new designs.
As the trend of fashion is increasing in the market, the craze for wearing handmade jewelry is also increasing, so if you use this business, you will definitely make a good profit.
If you come in the fashion market, then to do this business, you have to do the work as mentioned below. In which you may also have to take online courses.
Jewellery Making Classes or Course
Jewelery making is a very difficult task. The most difficult thing in this is designing. Actually, new designs keep coming in the market everyday, in such a situation, the jewelery designed by you will be sold only when it is of a new type.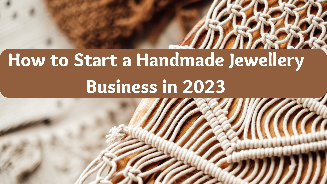 For this, classes are conducted at many places. In the immediate time, many such training classes run, which give jewelry designing classes to new people. You can learn to make different types of designing jewelry by going there. You can also use internet for this.
So, if you start understanding things in the training class, then you can learn the art of designing from the internet as well.
Must Read: Low investment Business Ideas
Tips for Handmade Jewellery Business
To start a handmade jewelry business, pay attention to the following points.
Once you have learned designing, you can make different types of designs at home by purchasing the required kit from the market.
After this you need to know the things related to setting up the business. You need to account for start up, publicity and other capital for the business.
Now you can make jewelery at your home by bringing the necessary materials according to your requirement.
Must Read : Side Business ideas for Doctors
Handmade jewelry Making Business Registration
Like other businesses, this business also needs to be registered to run formally. You can register your business under Udyog Aadhaar. If you want to do business on a large scale, then you need to register your firm under Proprietorship or Partnership.
Marketing for Handmade Jewellery Business
To run this business well, you need tremendous marketing. There are various ways for marketing, which can make your jewelry reach far and wide. Its marketing is being specially described here.How to Start a Handmade Jewellery Business in 2023.
Marketing in Craft Fair: At present, to develop such talents, many types of craft related fairs are organized at different places. Some are even organized by the government. At this time, you can also set up a stall and sell your made jewelery in these craft fairs.
Jewelery Party: You can also showcase your talent by inviting your friends and relatives to a jewelery party organized by you. By organizing such a party, you can easily make the goods made by you accessible to the people.
By creating your website: You can create your own website of your brand. Online proves to be the best option for marketing such goods. Therefore, you can sell your jewelry by creating your own personal website, apart from this, if you want, you can also upload your jewelry on other e-commerce websites like Flipkart, Amazon, etc. Many buyers consider it best to buy such jewelery online.
In local cosmetic shops: You can also show brochures of your design at local cosmetic shops. You can get profit by selling your designed jewelry at wholesale price at these local cosmetic shops.
If you want to start the business of making leather belts sitting at home then click here.
Cost Of Handmade Jewellery Business
If you start this business from home, then you will not have to spend for the shop. You only need to spend in this business to buy jewelry making items, in which you may need at least 5 to 7 thousand rupees.
Profit in Handmade Jewellery Business
If you sell your made jewelry at a reasonable price, you can make a lot of profit from it. Before deciding the price of any jewelry, you should fix your entire cost and after making a proper profit, tell the people the price of your made jewelry. By the way, you can earn at least 10 to 12 thousand rupees from this.
Loan for Handmade Jewellery Business
If you want to start the business of making handmade jewelry, then for this you can get loan from many places like you can take loan from banks for this business or from any society or any other type of institution which gives loan. Gives, you can easily start this business by taking a loan.
Conclusion
In this article, we have given you detailed information about how to start the business of making handmade jewelry and how to do it. If you want to know anything other than this, feel free to comment us. Your comment will be replied to as soon as possible.